Smooth and silky cheesecake topped with homemade blueberry jam, white chocolate chips and white chocolate ganache. Complete with other fresh blueberries for a fresh touch and a beautiful appearance.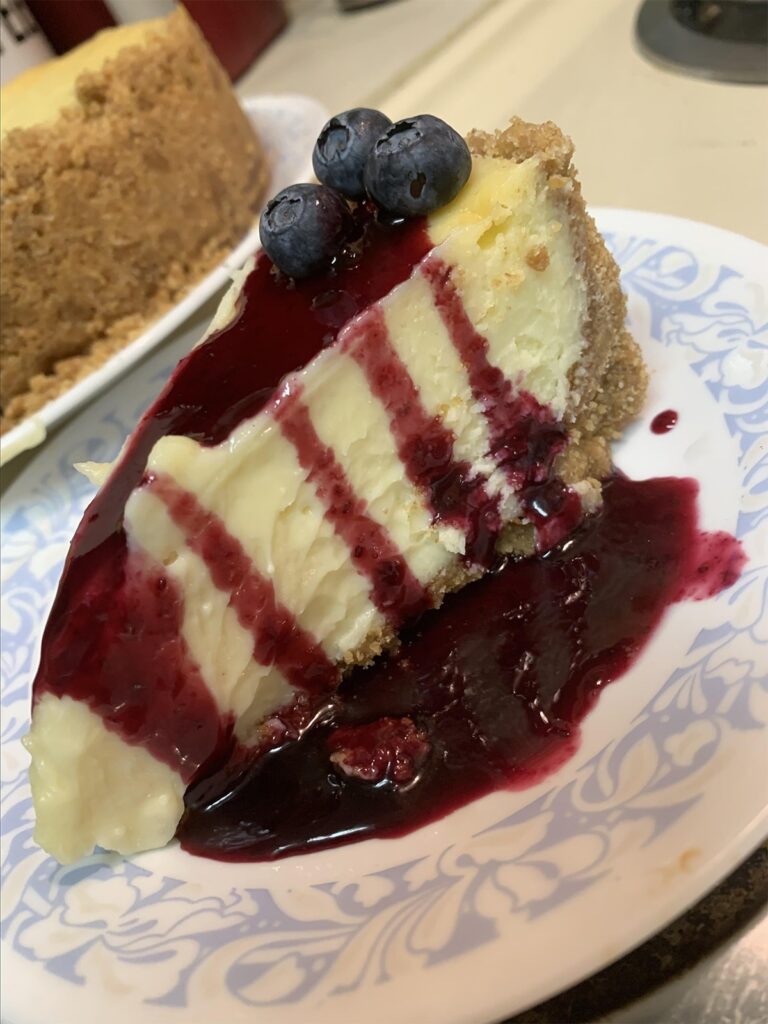 Yield: 1 – 10 inch springform pan
Ingredients
CRUST:
2 cups crushed graham crackers
1 cup slivered almonds
½ cup white sugar
¼ cup clarified butter, melted
2 tablespoons caramel topping
FILLING:
1 pound white chocolate, chopped
4 (8 ounce) packages cream cheese, softened
¾ cup white sugar
4 large eggs eggs, beaten
2 large egg yolks egg yolks
1 tablespoon all-purpose flour
1 teaspoon vanilla extract
TOPPING:
½ cup white sugar
1 teaspoon cornstarch
¼ cup water
1 pint fresh blueberries
2 teaspoons lemon juice
Directions
Step 1: Preheat oven to 275 degrees F (135 degrees C). Make the crust: In a food processor, blend together the graham cracker crumbs, almonds, and sugar until the almonds are ground fine. Pour in the melted butter and caramel while processing, until mixture is combined. Press the mixture onto the bottom, and halfway up the side of a 10-inch springform pan.
Step 2Make the filling: In a metal bowl over a pan of barely simmering water, melt the white chocolate, stirring until smooth. Remove from heat and set aside. In a large bowl, beat the cream cheese and 3/4 cup sugar until smooth. Beat in the eggs and the egg yolks, one at a time. Beat in the flour and the vanilla and blend in the melted white chocolate slowly, beating until the filling is well combined. Pour filling into crust.
Step 3Bake in the middle of preheated oven for 1 hour. Then turn off the heat, and crack the oven door an inch, letting the cheesecake cool in the oven to room temperature. Cover loosely and refrigerate overnight before removing from pan.
Step 4Make the topping: In a saucepan, combine 1/2 cup sugar and cornstarch. Stir in water and blueberries. Bring to a boil, then simmer for 10 minutes, stirring occasionally. Press through a fine sieve. Stir in lemon juice, allow to cool, and store in a glass jar.
Nutrition Facts
Per Serving:602.8 calories; protein 10.7g 21% DV; carbohydrates 55.5g 18% DV; fat 39.2g 60% DV; cholesterol 147.9mg 49% DV; sodium 282.7mg 11% DV.